A special place
for special kids
The Miracle League gives everyone the chance to play baseball. The league provides the opportunity for all children to play organized baseball, regardless of ability. Kids with special needs put on uniforms, make plays in the field and round the bases – just like their peers in other leagues.
Miracle League baseball is played on a custom-designed field featuring a cushioned, rubberized, completely flat surface to prevent injuries and allow access for the visually impaired and those in wheelchairs. All areas of the field, including the dugouts and restrooms, are universally accessible.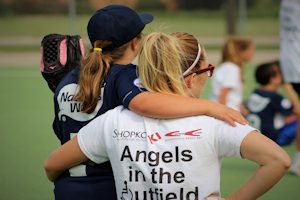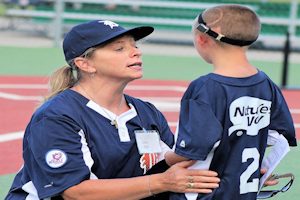 Latest news
Check in to find out what's happening with Miracle League… including weather updates. If it's happening, you'll find it here.
We know you've all been anxiously awaiting news on whether or not there will be a 2020 Miracle League baseball season played in Green Bay this summer and we greatly appreciate how patient you all have been. Unfortunately, even though we all hoped for a different outcome, the decision has been made not to proceed with our scheduled baseball league this summer. Due to the uncertainty surrounding the COVID-19 virus and the increased risks associated with public gatherings, our Board of Directors voted unanimously to postpone the 2020 season until June 5th, 2021. The decision to not have our players participate this season was largely based  on the increased risk associated for those with underlying medical conditions (the majority of our players are considered high risk) and on our inability to implement workable social distancing at the ballpark. The health and safety of our players, our volunteers, league supports and families is and will always be the number one priority of the league. It was not an easy decision for our board to make but a necessary one to help ensure both our players and every one else involved in our league isn't put at risk at the ballpark. The use of masks, hand sanitizers and increased equipment sanitizing were discussed but as many of you know, the vast majority of our players don't particularity enjoy wearing their helmets. Attempting to force our players to wear masks, social distance and repeatedly sanitize would be very traumatic for some of them not to mention the difficulty some may encounter working with a buddy wearing a mask. For safety reasons and in the best interests of everyone involved with the Miracle League of Green Bay our 15th season will now commence June 5th, 2021. We hope to see you all back at that time. Players who would've normally aged out at the end of this season will be able to participate in the 2021 season.
**
Teams, Coaches and the Jerseys ordered for this season will remain the same for the 2021 season. You will however still be required to register your child again beginning January 1st 2021 even though they were registered in 2020. Our database doesn't have the capability to carry over player registrations from one year to the next.
**
Gary, Paul and I will remain available to answer any questions you may have about the change in schedule. We appreciate your understanding and look forward to seeing all of you back at the ball park once we reach a point where it's safe for everyone.  We'll miss seeing each of you this season but look forward to seeing all of our players back on the field again in the near future. Take care and have a safe and fun summer. Sincerely,
Your Miracle League of Green Bay Management Team
Read more
"SEASON 15 IS POSTPONED UNTIL FURTHER NOTICE."
Hello Miracle League families and friends. Although our season has been postponed we are still holding out hope for a later start once this horrible virus is gone. Our players, their families and our volunteers are our number one priority and baseball will have to wait until it's safe for everyone. Our board of directors are having a teleconference tomorrow to discuss our available options. Gary, Paul and I continue to stay up to date on the progression of COVID-19 and wi
ll follow all recommendations set out by the CDC to ensure we all remain healthy and safe. Our player jerseys have been ordered and we continue to prepare as usual so we are prepared once news of the "Stay at home" order has been lifted. That being said, however we decide to proceed will not be immediate. We want to allow some time to pass once the quarantine is lifted to see if people start becoming infected again. Safety first and until we feel confidant that all of you will be safe from COVID-19 at the ballpark, we'll remain on hold. I'll update with any changes as soon as I learn them. Thank you all for your patience, we hope to see you all again soon.
Read more