A special place
for special kids
The Miracle League gives everyone the chance to play baseball. The league provides the opportunity for all children to play organized baseball, regardless of ability. Kids with special needs put on uniforms, make plays in the field and round the bases – just like their peers in other leagues.
Miracle League baseball is played on a custom-designed field featuring a cushioned, rubberized, completely flat surface to prevent injuries and allow access for the visually impaired and those in wheelchairs. All areas of the field, including the dugouts and restrooms, are universally accessible.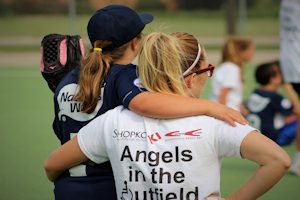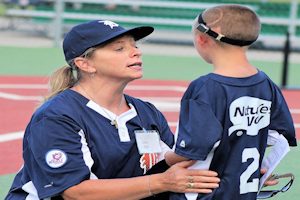 Latest news
Check in to find out what's happening with Miracle League… including weather updates. If it's happening, you'll find it here.
Hello to all of our Miracle League families and friends. We're just over a month away from the start of our 2021 Anniversary season of Miracle League baseball in Green Bay and I hope you're all getting excited. I know I sure am! I realize the distribution of our season information has been a little behind this year but I ask that you all be patient for just a little bit longer. With the uncertainty of COVID and with the safety precautions we've had to consider before moving forward with our season some of our preparations had to be delayed. I assure you that all of the pertinent information about our upcoming season, the schedule, uniform pick up and Buddy Orientation will be in your mailboxes soon. In the meantime here is a copy of the 2021 schedule to help you plan for the summer! See you all soon! Watch for more updates coming soon!
Miracle League - 2021 - Schedule FINALDRAFT4th
Read more
It's that time of year again and we need volunteers to sign up ASAP so we have enough buddies for our players. If you're a returning volunteer please indicate in your registration if you're signing up for a specific player or team. Also please remember to click on the "buddy" option even if you're signing up for someone specific because you can't be assigned if you haven't. Opening day is anticipated to take place on June 5th, 2021. ****Parents please make sure you're registered in the database as a volunteer. Due to COVID we may require some parents to be buddies this season and you need to be registered to be assigned. I'll let you know. ****Homer needs a volunteer to fill him out and help him work his magic! If you're interested in being the person who keeps Homer moving let me know at 920-544-0072. **** We are still in need of Team Assistants for various teams. If you're interested in taking on this vital role send me an email (aomlofgb@gmail.com), text or call me at 920-544-0072. Thank you all in advance! **** Buddie training dates and uniform pick up TBA shortly.
Read more