A special place
for special kids
The Miracle League gives everyone the chance to play baseball. The league provides the opportunity for all children to play organized baseball, regardless of ability. Kids with special needs put on uniforms, make plays in the field and round the bases – just like their peers in other leagues.
Miracle League baseball is played on a custom-designed field featuring a cushioned, rubberized, completely flat surface to prevent injuries and allow access for the visually impaired and those in wheelchairs. All areas of the field, including the dugouts and restrooms, are universally accessible.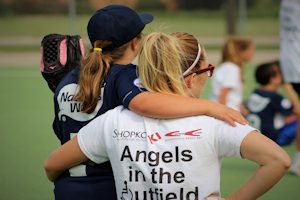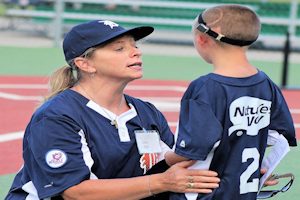 Latest news
Check in to find out what's happening with Miracle League… including weather updates. If it's happening, you'll find it here.
Our games are on. As a parent please use your discretion as to whether to attend and play entire game, part of the game, or to stay home. All options are certainly understandable. Please communicate with your coaches. We will provide cold water in dugouts as well as take steps to keep the games moving to minimize the actual time on the field. We are concerned with player safety but also want to reduce games lost due to weather.
Read more
We are in for another warm week. We plan to play games but will keep an eye on the heat Tuesday. Here is the schedule for pictures for those teams rained out last week: Reds pictures taken after your 5:30 game; Orioles pictures taken before your 7:00 game (please arrive 20 minutes before game); Giants pictures before your 7:00 game(please arrive 20 minutes before); Mets 4:00 game pictures after game
Read more