A special place
for special kids
The Miracle League gives everyone the chance to play baseball. The league provides the opportunity for all children to play organized baseball, regardless of ability. Kids with special needs put on uniforms, make plays in the field and round the bases – just like their peers in other leagues.
Miracle League baseball is played on a custom-designed field featuring a cushioned, rubberized, completely flat surface to prevent injuries and allow access for the visually impaired and those in wheelchairs. All areas of the field, including the dugouts and restrooms, are universally accessible.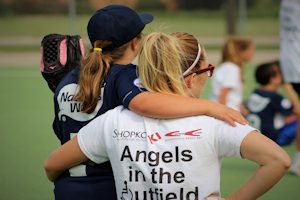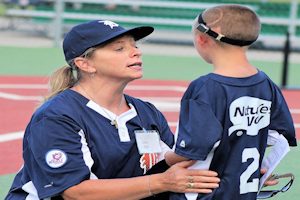 Latest news
Check in to find out what's happening with Miracle League… including weather updates. If it's happening, you'll find it here.
https://evers.wi.gov/Documents/COVID19/EMO12-SaferAtHome.pdf
Good Afternoon Miracle league of Green Bay Friends and Families. As our nation continues to battle this horrible virus, I want to assure you that Gary, Paul and I continue to monitor and adhere to the guidelines set out by the Government for the safety and well being of all of you, especially our players. This will most likely mean that our 2020 schedule will change. It does not mean that we'll cancel the 2020 season completely. There will come a time when the Government and CDC deem it safe for all of us to get ba
ck to our normal activities. Children will return to school, parents will return to work and community events will once again resume. Once it's been determined that the danger of contracting this virus has passed we will review all of our available options and plan accordingly. Options we've discussed to date have been having a later start date, possibly shortening the season or as a last resort, hosting something like a weekend marathon event. Unfortunately, nothing can be determined until the threat of this virus goes away. Worst case scenario, if it ends up being too late in the summer to play our weekly games, we'd like at minimum to host some form of 15th Anniversary event. Whether it be a marathon weekend as previously mentioned or just a one day event. Our players will still be given the opportunity to participate in baseball. They will be assigned to their teams as normal, receive their jerseys and hats, have team photos taken and receive a few additional surprises as well. We fully intend to implement additional safety guidelines at the ballpark and continue to discuss ways to achieve this. I'll continue to update as new information becomes available.
Please remember the greatest defense at this time is "Social Distancing", "Staying Home" for those who can, "Hand Washing" with soap and water and "Disinfecting Surfaces". If you become ill self isolate. Be safe everyone, my thoughts remain with all of you during this scary time....
Read more
Hello to all of our Miracle League families and friends. As you're all aware the Coronavirus has changed life as we all know it. Gary, Paul and I continue to hold on to the hope that our 2020 season will go ahead, even if it means having a later start date. There is under 11 weeks until our season is scheduled to begin and as more information about the quarantine timeline becomes available we'll discuss our available options. Our first hope is that all of our families make it through this crisis safely and that it will only be a matter of a few short weeks before we can all feel safe again. We hope everyone who can, will self quarantine and take all of the necessary precautions recommended, allowing this horrible virus to dissipate. This is the one time where no one can afford to question the validity of this virus before taking precautions. The lives of our players, their families and everyone else in our community depend on everyone working together and supporting each other through these next few weeks. Remain diligent when it comes to hand washing, soap and water can help prevent this virus from spreading. Self quarantine, the less people you're exposed to the better your chances are. Isolate yourself if you're sick, underlying conditions put you even more at risk. Watch for updates and follow the recommendations, it's not just about you, there are innocent lives at stake. It's hard to believe and unfortunate that in-spite of all of the announcements documenting confirmed cases there are still people who don't believe this virus is as deadly as it's being made out to be. My question to them as someone who has an extremely high risk of not surviving if I contract this virus, is " Why put others at risk because of your doubt? Gloat later if you end up being right but for now it's time to think of others. " Which leads me to the other major concern for many of our families, their lack of supplies on hand. All I can say is I'm sorry, it's not right but clearly there are some very selfish people in the community. In my mind the people who chose to hoard all of the cleaning, sanitizing and bathroom supplies are guilty of putting innocent children, our medically fragile and our elderly at greater risk and should be ashamed of their behavior. Like many of you, I have not been able to find a single bottle of Hand Sanitizer, Clorox Wipes or other disinfecting cleaners. I have reached out to a few of our local retailers in an effort to see if they can set aside a special time where people with disabilities or parents of children with disabilities can shop for these items before others have an opportunity to hoard them all. I'll make an announcement if one of these retail locations agree to accommodate my request. In addition you can reach out to your child's Care Managers, Brown County and their doctors for ways to obtain these supplies. A couple of helpful tips for those who haven't thought about it: You can safely freeze Milk, Cream, Butter and Yogurt. Flour, yeast, sugar, salt, baking powder and baking soda go a long way and you can save space in your freezer by making buns, bread and pizza dough. Just an idea and one that works great for our family. Stay safe everyone, I'll update as often as I can. My first priority however will be keeping my own family safe and healthy and most important will be my daughter with HLHS.
https://www.cdc.gov/coronavirus/2019-ncov/index.html
Read more