A special place
for special kids
The Miracle League gives everyone the chance to play baseball. The league provides the opportunity for all children to play organized baseball, regardless of ability. Kids with special needs put on uniforms, make plays in the field and round the bases – just like their peers in other leagues.
Miracle League baseball is played on a custom-designed field featuring a cushioned, rubberized, completely flat surface to prevent injuries and allow access for the visually impaired and those in wheelchairs. All areas of the field, including the dugouts and restrooms, are universally accessible.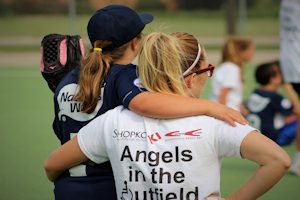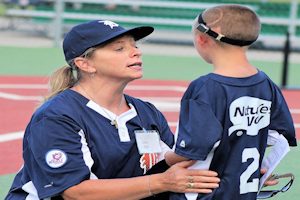 Latest news
Check in to find out what's happening with Miracle League… including weather updates. If it's happening, you'll find it here.
Hello to all! I'd like to welcome each of you to our 2019 season of Miracle League of Green Bay baseball.
All of us here at the Miracle League of Green Bay are looking forward to another great summer of exciting baseball. This year our season officially kicks off on June 1st 2019.
Our player registration deadline is April 1st 2019. If you haven't registered your child to play, please do so before this date because we cannot accept any late registrations.
Several people seem to be having difficulty registering either their child or
themselves this year. Please follow the following steps to ensure your registration is a success.
1) Please don't use auto fill. The system doesn't seem to like it and using it often leads to error messages.
2) Make sure all of the yellow highlighted areas are completed. The "evening" phone is required even if you only have a cell/mobile phone.
3) When re entering your email address please make sure there isn't an extra space before the second entry. This typically occurs more often when using auto fill.
4) On the Volunteer form, make sure you select whether or not you're a returning volunteer.
5) On the player form, make sure the school section and diagnosis section are also filled out. If they're not you'll receive an error.
6) If you are successful with registering your child please keep a copy of your registration form before submitting your payment. This form is our only method of verifying your child was registered in the event they don't appear in our database. If you've requested a scholarship for your child and don't need to submit payment please keep the form for your records.
Parents and Legal Guardians, please take a moment to review the rules set out by the league as well as the Parent Expectations. This will help ensure we all have a successful 2019 season.
Thank you all for being a part of the Miracle League of Green Bay. It's exciting to know we're just weeks away from hearing those wonderful words "PLAY BALL!!"
Read more
Need some new Miracle League gear for the 2018 season? Check out this year's lineup of apparel and fill out your order form. The ordering deadline is on opening day, June 2, so don't forget to bring your completed form with you. See you at Resch Miracle Field!
Read more