A special place
for special kids
The Miracle League gives everyone the chance to play baseball. The league provides the opportunity for all children to play organized baseball, regardless of ability. Kids with special needs put on uniforms, make plays in the field and round the bases – just like their peers in other leagues.
Miracle League baseball is played on a custom-designed field featuring a cushioned, rubberized, completely flat surface to prevent injuries and allow access for the visually impaired and those in wheelchairs. All areas of the field, including the dugouts and restrooms, are universally accessible.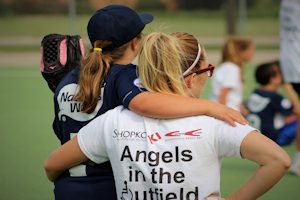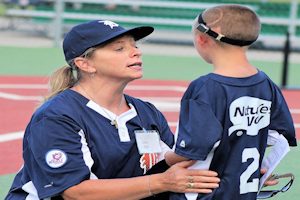 Latest news
Check in to find out what's happening with Miracle League… including weather updates. If it's happening, you'll find it here.
It's picture week at the ballpark so players please remember to bring your best smiles for our wonderful photographers from Ambrosius Studios.
Individual and team pictures will be done again this season prior to each game so try to be there a few minutes early.
Players who will be absent on their game day can get their pictures done on one of the other 2 picture days, or parents can make arrangements with Ambrosius directly.
This is the only week we do pictures at the ballpark. Tuesday from 3:30 PM to the beginning of the 7:00 PM game, Wednesday from 4:45 PM to the beginning of the 7:00 PM game and Thursday from 3:30 PM to the beginning of the 7:00 PM game.
*
*
Parents please note.
*
*
Parents please remember that no one is allowed in the dugout unless they're acting as a buddy for their child. We've had too many accidents involving our players with additional people being in the dugouts while our teams are trying to get set up. Also if you are a buddy for your child please make sure you have proper athletic shoes, are registered in the database and receive a buddy shirt. Thank you for your cooperation.
Read more
*Good morning Miracle League families, volunteers and friends. We're on the final leg of our preparations for opening day tomorrow but there's still a lot to do. Parents, you can help the most by making sure you have your child's jersey, you're registered in our database and that you've reviewed our Parent Expectations before game time. It's been an unusual season with buddies this season so you need to be prepared to step in if needed for your child. Remember, only parents who are registered in the database will be permitted on the field. Thank you for your cooperation.
*We've assigned all of the buddies we have available and unfortunately we are still a few permanent buddies short. We seem to have an enormous number of part time buddies this season which isn't ideal for our players. We prefer to have buddies who can commit for the entire season and build a lasting relationship with the player they're assigned to. We are doing the best we can to make it work with those who have volunteered their time so you may see more than one buddy with your child throughout the season.
*Miracle League Spirit Wear will be sold online this year or you can visit Team apparel in person today or Monday at the latest. As per our bylaws apparel can only be sold publicly during a special event like Opening Day. With it being an online store we've extended the opportunity to purchase our 2021 Spirit Wear by 3 days. Here is the link to our store: https://stores.inksoft.com/miracleleagueofgreenbay/shop/home
I will be at the ballpark again today, Friday June 4th, from around noon to 1:00 PM maybe 1:30PM for any buddies who want to pick up their buddy shirts or ask questions. Please make sure if you haven't attended orientation that you let your Team leads know. As long as you read everything included in the Buddy Information Guide you were sent you will not have to go through additional orientation as that guide covers everything you need to know. Thank you all again for choosing the Miracle League of Green Bay to volunteer your time, we appreciate it very much!
Read more