A special place
for special kids
The Miracle League gives everyone the chance to play baseball. The league provides the opportunity for all children to play organized baseball, regardless of ability. Kids with special needs put on uniforms, make plays in the field and round the bases – just like their peers in other leagues.
Miracle League baseball is played on a custom-designed field featuring a cushioned, rubberized, completely flat surface to prevent injuries and allow access for the visually impaired and those in wheelchairs. All areas of the field, including the dugouts and restrooms, are universally accessible.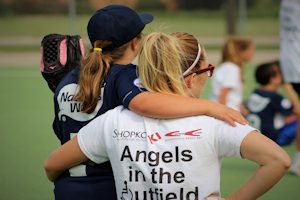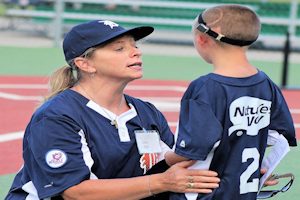 Latest news
Check in to find out what's happening with Miracle League… including weather updates. If it's happening, you'll find it here.
It's that time of year again and we need volunteers to sign up ASAP so we have enough buddies for our players. If you're a returning volunteer please indicate in your registration if you're signing up for a specific player or team. Also please remember to click on the "buddy" option even if you're signing up for someone specific because you can't be assigned if you haven't. Opening day is anticipated to take place on June 5th, 2021. ****Parents please make sure you're registered in the database as a volunteer. Due to COVID we may require some parents to be buddies this season and you need to be registered to be assigned. I'll let you know. ****Homer needs a volunteer to fill him out and help him work his magic! If you're interested in being the person who keeps Homer moving let me know at 920-544-0072. **** We are still in need of Team Assistants for various teams. If you're interested in taking on this vital role send me an email (aomlofgb@gmail.com), text or call me at 920-544-0072. Thank you all in advance! **** Buddie training dates and uniform pick up TBA shortly.
Read more
Below is a message from our Executive Director Gary Rogaczewski which was also included with our 2021 newsletter mailout. We all hope our 2021 season will go ahead as planned but some things may be out of our control. Please watch both the website and Facebook page for updates. Thank you and Happy New Year! To all Parents and families: As all know, 2020 has been a particularly difficult year. We were unable to have a season due to the COVID pandemic. While this continues to be a challenging time, the newsletter enclosed includes many of our usual instructions and information. We will open registration as in past years on January 1, 2021.  We hope the situation improves and allows for a 2021 season. We ask that you proceed with registering your child in anticipation of playing the league as scheduled in 2021. As we approach the coming season, we will return to the guiding principle of the league which is to allow our athletes to play baseball. We may not be able to have some of extra things all have grown to enjoy but hopefully, we will be able to have the players on the baseball field playing their games. The following are some of the different challenges that Paul, Shelly, and I will attempt to work through: Opening Day – June 5, 2021 This year we will be celebrating our 15th season. Last year we were unable to play due to the pandemic. We have tentative plans to make this a special day. Hopefully the COVID situation will be sufficiently under control for this to be a reality. Registration Open January 1 All players and volunteers must re-register for the new season. Regardless of the current situation it is very important that players be registered. There is a great deal of planning and organizing to be done in preparation for the season. We have adjusted the age limit and will allow any player who would have "aged" out in 2020 to play this year.   Special events and concessions The ability to have the concessions open as well as hold special nights will depend on the status of the community. Grandparent's week and corporate concession nights are two examples of these. Rules and Expectations We will be working with the Miracle League board as well as researching the best guidelines to follow for the coming season. It is expected that areas of concern may be the need to wear masks and the importance of social distancing. We plan to reach out to other leagues and medical experts to help with these issues. However, whatever rules and guidelines are implemented, they will be enforced for the safety of all participants. Cleaning of equipment We will be cleaning and disinfecting all equipment used by the players before each game. Volunteers and Buddies This is an area we will need to work through. In the past we have always worked to provide a buddy for the players. This effort will continue with communications at schools and in the business sector. However, we may need to enlist more family members to serve as the buddy for their child. Parents and siblings living in the same household may be more appropriate buddies due to social distancing guidelines in the community.
Read more