A special place
for special kids
The Miracle League gives everyone the chance to play baseball. The league provides the opportunity for all children to play organized baseball, regardless of ability. Kids with special needs put on uniforms, make plays in the field and round the bases – just like their peers in other leagues.
Miracle League baseball is played on a custom-designed field featuring a cushioned, rubberized, completely flat surface to prevent injuries and allow access for the visually impaired and those in wheelchairs. All areas of the field, including the dugouts and restrooms, are universally accessible.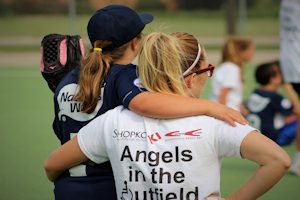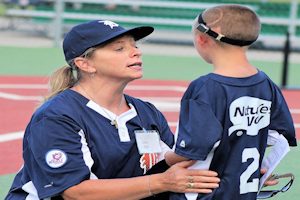 Latest news
Check in to find out what's happening with Miracle League… including weather updates. If it's happening, you'll find it here.
The start of the 2023 Miracle League Season is only 2 sleeps away! 💤
Our Opening Day ceremony will begin 𝙥𝙧𝙤𝙢𝙥𝙩𝙡𝙮 at 8:30 Saturday morning. 𝘐 𝘸𝘰𝘶𝘭𝘥 𝘦𝘯𝘤𝘰𝘶𝘳𝘢𝘨𝘦 𝘧𝘢𝘮𝘪𝘭𝘪𝘦𝘴 𝘵𝘰 𝘢𝘵𝘵𝘦𝘯𝘥 𝘪𝘧 𝘱𝘰𝘴𝘴𝘪𝘣𝘭𝘦. 𝗔𝗹𝗹 𝘁𝗲𝗮𝗺𝘀 𝘄𝗶𝗹𝗹 𝗺𝗮𝗿𝗰𝗵 𝗼𝗻𝘁𝗼 𝘁𝗵𝗲 𝗳𝗶𝗲𝗹𝗱 𝗱𝘂𝗿𝗶𝗻𝗴 𝘁𝗵𝗲 𝗰𝗲𝗿𝗲𝗺𝗼𝗻𝘆. We will also be honoring our Miracle League Founder, Paul during this time.
👟All players and volunteers are reminded to wear their jerseys/volunteer shirts as well as proper footwear.
💵 There are also many players with 𝘂𝗻𝗽𝗮𝗶𝗱 registration fees. Please bring payment on Saturday ($45 w/checks payable to Miracle League of GB).
👚 The online merchandise sale is live and will close Monday, June 12th. We will try to have some sample sizes available on opening day.
🌧️In the event of questionable weather, we will post information on both the website and Facebook
Important Dates:
• June 12th - Clothing Sale Ends
• June 13-15th - Picture Nights
• July 4th Week - No Games
• July 11-13th - Grandparent's Week
• July 30th - Miracle League Day w/Green Bay Rockers
Read more
★𝐕𝐨𝐥𝐮𝐧𝐭𝐞𝐞𝐫! 𝐏𝐥𝐚𝐲𝐞𝐫 𝐁𝐮𝐝𝐝𝐢𝐞𝐬 𝐍𝐞𝐞𝐝𝐞𝐝★
𝗜𝗳 𝗶𝗻𝘁𝗲𝗿𝗲𝘀𝘁𝗲𝗱 𝗶𝗻 𝘃𝗼𝗹𝘂𝗻𝘁𝗲𝗲𝗿𝗶𝗻𝗴, 𝗽𝗹𝗲𝗮𝘀𝗲 𝗰𝗼𝗻𝗻𝗲𝗰𝘁 𝘄𝗶𝘁𝗵 𝗠𝗲𝗹: melriss75@gmail.com
Read more