Our Belief
Every child deserves a chance to play baseball
Our Mission
Provide opportunities for children with disabilities to play Miracle League Baseball, regardless of their capabilities.
Promote community support and sponsorship of Miracle Leagues.

Promote the construction of special facilities that meet the unique needs of Miracle League players and their families.
Our Thanks
Miracle League of Green Bay is possible largely because of the generosity of Dick Resch and former Green Bay Packer Brett Favre & his wife Deanna.
The Allouez Optimists Miracle League of Green Bay provides kids with mental and/or physical challenges, 4 to 19 years old, an opportunity to play baseball as a team member, with real uniforms, in an organized league, regardless of their capabilities.
Founded in 2006, it was one of only two Miracle League programs in Wisconsin at that time – the other was in Kenosha.
At Miracle League of Green Bay, it's all about the smiles – and there are plenty to go around. If you want to see the pure joy of playing baseball, just come on out to Resch Miracle Field.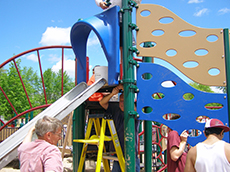 We have more than just baseball. The Favre Family Miracle Recreation area offers a handicap-accessible playground, named after its major contributors, Brett and Deanna Favre.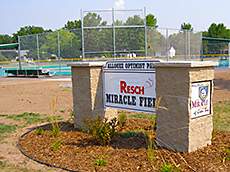 It's our field of dreams. We built it and they have come. It's a special place for special kids where we're making miracles happen.
Our Board of Directors
This group is committed to providing an environment where the Miracle League of Green Bay can continue to fulfill its mission and thrive for generations.
Paul Liegeois, Founder
Gary Rogaczewski, Executive Director
Tim Jorgensen, President
Brad Lange, Vice President
Melissa Lundberg, Treasurer
Craig Francois, Secretary
Laura Mossakowski, Director
Rick Chernick, Director
Kurt Gajeski, Director
Scott Herber, Director
Jacob Jirschele, Director
Tom Olson, Director
Steve Seidl, President Emeritus
Jon Syndergaard, Director
Andrew Tobisch, Director
Paul Liegeois

Gary Rogaczewski

920-615-6609

Gary's been part of Miracle League in Green Bay every year except the first. That was 2008. Now, he's the Executive Director of the league, and his passion for giving these special kids the chance to play ball shines through as he ensures Miracle League is a great experience for everybody.
Our history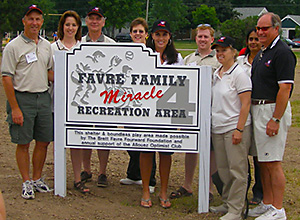 Shortly after his retirement from his electric and gas utility executive job of 33  years, our Founder and General Manager, Paul Liegeois, and his wife Mary Jo, visited with long-time friends and business associate, Dean Alford and his family in Atlanta, Georgia. Through discussion with Alford, now Chairman of the national Miracle League Association, he learned about the history and efforts of he and his Rotary Club in establishing the Miracle League program, and viewed the HBO video about the project. Intrigued by the concept, Liegeois brought the idea back to his Optimist Club in Green Bay, and in late 2005, decided to proceed to see if he couldn't create the same wonderful program for the children in the Green Bay and surrounding areas. Read more.
Miracle League's national history
In 1998 Rockdale Youth Baseball Association's coach Eddie Bagwell invited the first child with a disability to play baseball on his team; Michael a 7 year old child in a wheel chair attended every game and practice, while cheering on his 5 year old brother. In 1999, other children with disabilities were invited to play baseball. The players had expressed the desire to dress in uniforms, make plays in the field and round the bases just like their main stream peers. The league began with 35 players on four teams.
Last updated: Feb. 10, 2019
Who's eligible to play?
Any child between the ages of 4 to 19 with a mental or physical challenge who may be otherwise unable to enjoy playing the sport of baseball from anywhere in the Northeastern Wisconsin area.
Where are the games played?
At Resch Miracle Field at Optimist Park, the corner of Libal St. and Kalb Ave in Allouez.
When will the season start?
The season opening day is the first Saturday in June. Registration deadline is April 1st.
Where can I register?
Player Registration and Volunteer Registration is done online at  this website, www.greenbaymiracleleague.com.  Players  may register any time after January 1 up to the April 1 deadline. Volunteers can register anytime, but are encouraged to sign up early so player assignments can be made. At least one parent of each player must be registered each season.
Fill in the online form, select "Agree" for the Player Release, click on "Submit" to send the form electronically. Registration is not complete until the player fee is received. Print out a copy of the completed form and send it with your check by April 1 to:
Gary Rogaczewski Executive Director
c/o Miracle League
2072 N Rock River Circle
De Pere, WI  54115
Is the field handicap accessible?
The field is rubber surfaced, completely safe, and handicap accessible. A new field was dedicated in 2007 and named "Resch Miracle Field."  In addition, the park also has the "Favre Family Miracle Recreation Area" – a shelter, with bathrooms and concession stand, and a safe, rubber surface, handicap accessible playground.
What's the cost to participate?
Cost per player is $45, which includes a major league look-alike team jersey, a baseball cap, and player insurance through the league.  Team sponsors and scholarship donors help to defray costs of any child that has a hardship in paying the fee.  No child will be turned away for inability to pay.
What times will games be played?
The season starts the first Saturday in June with an Opening Ceremony and closes on the first Saturday in August. All teams play on opening and closing days. Those are the only Saturday games.
Otherwise, each team plays once per week on either Tuesdays at 4, 5:30 or 7 p.m.; Wednesdays at 5:30 or 7 p.m.; or Thursdays at 4, 5:30 or 7 p.m. Please check the schedule for details.
How are volunteers involved?
Volunteers are needed primarily to serve as buddies to the participants (each player MUST have a buddy in order to play.)  Other volunteering opportunities include buddy coordinators and team assistants.
Each player is matched with an able-bodied buddy (14+ yrs.)  Buddies have strict rules to adhere to and assist the participant with batting, fielding and getting around the bases as much or as little as needed.
The player bats, fields, rounds bases, as nearly close to actual baseball league rules as he/she is capable of.  Every player bats each inning, all batters are safe, there are no outs, and the last batter hits a home run. Games last two innings. In addition, each team will have a coach and team assistant.  Players are pitched to, according to their ability to bat, and may use a tee, as necessary. Score ends in a tie.
Volunteers are needed!  If you're interested, please sign up online or contact Mel Rissling, Volunteer Coordinator, at 920-544-0072.
What type of baseball is used?
The official Miracle League baseball is a soft, regulation baseball-sized rubber ball, the kind used in T-Ball.
How did the Miracle League start?
The first Miracle League field opened in Conyers, Georgia, in April 2000. Word spread and, as of 2011, there were 250 communities in the U.S. with Miracle Leagues started.  Over 100 of those have or are in progress of constructing the special-surface fields.  The Miracle League Association has an aggressive plan to help 500 communities, like ours, all over the globe, build baseball complexes.
Is Miracle League a non-profit?
The Miracle League of Green Bay is a 501(c)(3), tax-exempt,  non-profit, charitable organization.
Where does the league get its funding?
Funding is solely through public contributions, team sponsors, participant fees, and league sponsorship donations. Contributions are welcome. If you would like to contribute or sponsor a child, contact the League through the contact information on the About page.
Who do I contact for more information?
Gary Rogaczewski, Executive Director
Allouez Optimists Miracle League of Green Bay
1900 Libal St.
Green Bay, WI  54301
920-544-0072
Gary.Rogaczewski@gmail.com
Last update: June 14, 2022